Cub Scout Family Camping at Camp Thunderbird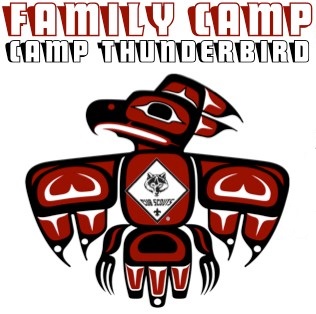 Cub Scout Family Camping takes place at Camp Thunderbird, an incredible camp on Summit Lake, just 20 minutes from downtown Olympia.

Choose from Dad & Lad, Mom & Me or Pal & Me weekends, taking place throughout the year, plus the exciting Fall Festival in October. Click the icon to get specific dates for each of these events on PacificHarbors.org

These Cub Family Camping weekends include activities like: archery, BB guns, seasonal crafts, first aid, Scout skills, games, nature, and the climbing wall if weather permits!!!

Check-in is at 7:00pm on Friday and camp is done at 4:00pm on Saturday. Each Cub Scout must be accompanied by a trusted adult over 18 years of age.

Questions about Family Camps?
Contact Tylene Byrd, Camp Director at 360-823-7300 or Mark Woodman, Cub Scout Camping Staff Advisor at 253-682-2236.